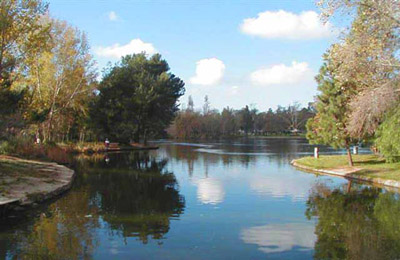 If you're looking for a place where you want to take a breather and enjoy the serenity and tranquility that nature has to offer or to simply take a break from the usual city life, Yorba Regional Park is just the perfect place for you to unwind.
Nestled at the mouth of Santa Ana Canyon, the Regional Park offers a wide variety of activities for kids and adults while enjoying its scenic and breath-taking landscape. This 166-acre park is perfect for family trips. The park has four connecting lakes where you can go boating or fishing. The two larger lakes located in the center are ideal for fishing.
These lakes are home to various species of fish such as Rainbow trout, Channel Catfish, Largemouth Bass, Bluegill, and Carp You can go on a family bike-riding, hiking or horseback riding in the many trails in the park. Kids can also enjoy the jungle gyms in the park. There is also a children's theater as well as a climbing wall called Mount Adventurous for kids ages 4 and above. The playground nearest to the parking lot is advised to be more suitable for smaller kids since it doesn't have areas where they could fall or hurt themselves.
While another playground located near the volleyball court is best for bigger kids. Facilities such as a volleyball courts, baseball field, bike rentals, barbeque, playgrounds and horseshoe pit are being provided in the area as well as restrooms. There are also shades and 400 picnic tables for the guests.
If you've had enough of the usual outdoor activities, one can also try other entertainments like the Freeway Coaster, Crazy Bus, and the giggle wheel. This place is open daily at 7 in the morning and they charge only cash for parking fees. A trip to the Park is pretty cheap and there is definitely something engaging for each family member. Weekends and holidays are busy so to avoid inconvenience, make reservations beforehand.